Article courtesy of United States Polo Association
WELLINGTON, Fla. – Jan. 27 2017 –  Mark Bellissimo and the International Polo Club Palm Beach (IPC) in Wellington, Florida, presented the highly-anticipated inaugural Gladiator Polo tm arena event, sanctioned by the United States Polo Association® on Thursday, January 26. Over 3,000 spectators swarmed the Equestrian Village of Palm Beach International Equestrian Center (PBIEC) to witness one of the highest-ranked matches in decades of arena polo with an unprecedented $100,000 prize purse over three weekly games.
Teams competed for the $30,000 game with  $24,000 for the winning team and $6,000 for the losing team in this preliminary match. Spartacus with a cumulative 24-goal handicap consisted of 10-goaler Tommy Biddle, 7-goaler Team USPA member Felipe Viana and 7-goaler Jason Crowder. Pitted against Spartacus was the 25-goal Crixus led by 9-goalers Mike Azzaro and Matias Magrini along with 7-goaler Santi Torres. The two all-star teams, named after Roman Gladiators, played on the flat over six five-minute chukkers of continuous play that Azzaro described as "a little more physical and aggressive then I thought it was going to be."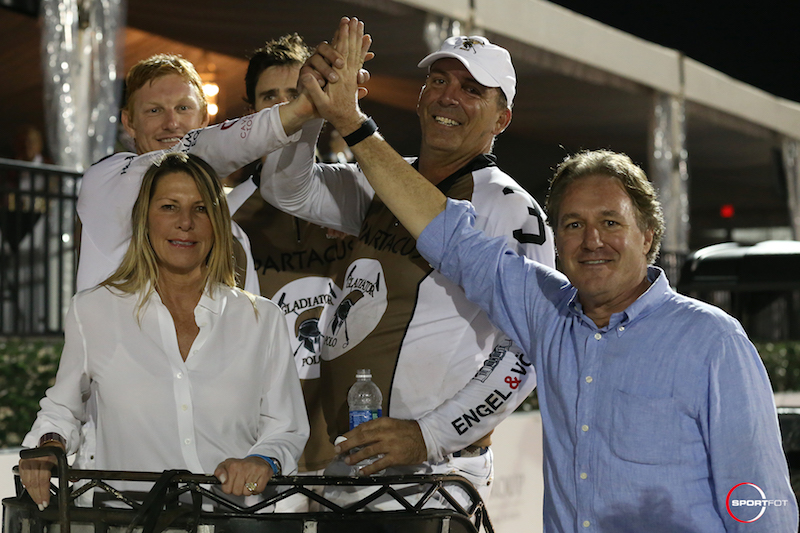 The first half of play exhibited low-scoring from both teams as they grew accustomed to the new arena. Despite strong offensive plays by Crixus' Magrini, Biddle scored the first goal of the game for Spartacus, which was quickly equalized by Torres. Biddle struck back in the second with a penalty 3 conversion, but Azzaro answered back with two from the field, including a beautiful drive to set up a nearside tap in to put Crixus in the lead 3-2. The game began to open up in the third with fast-paced plays and solid defense from both teams. The ever present Viana waiting in the back consistently thwarted Crixus' goal attempts, while an impressive and crowd-pleasing block from Azzaro, who slapped down a penalty 4 from Biddle helped to maintain Crixus' one-goal lead at the half.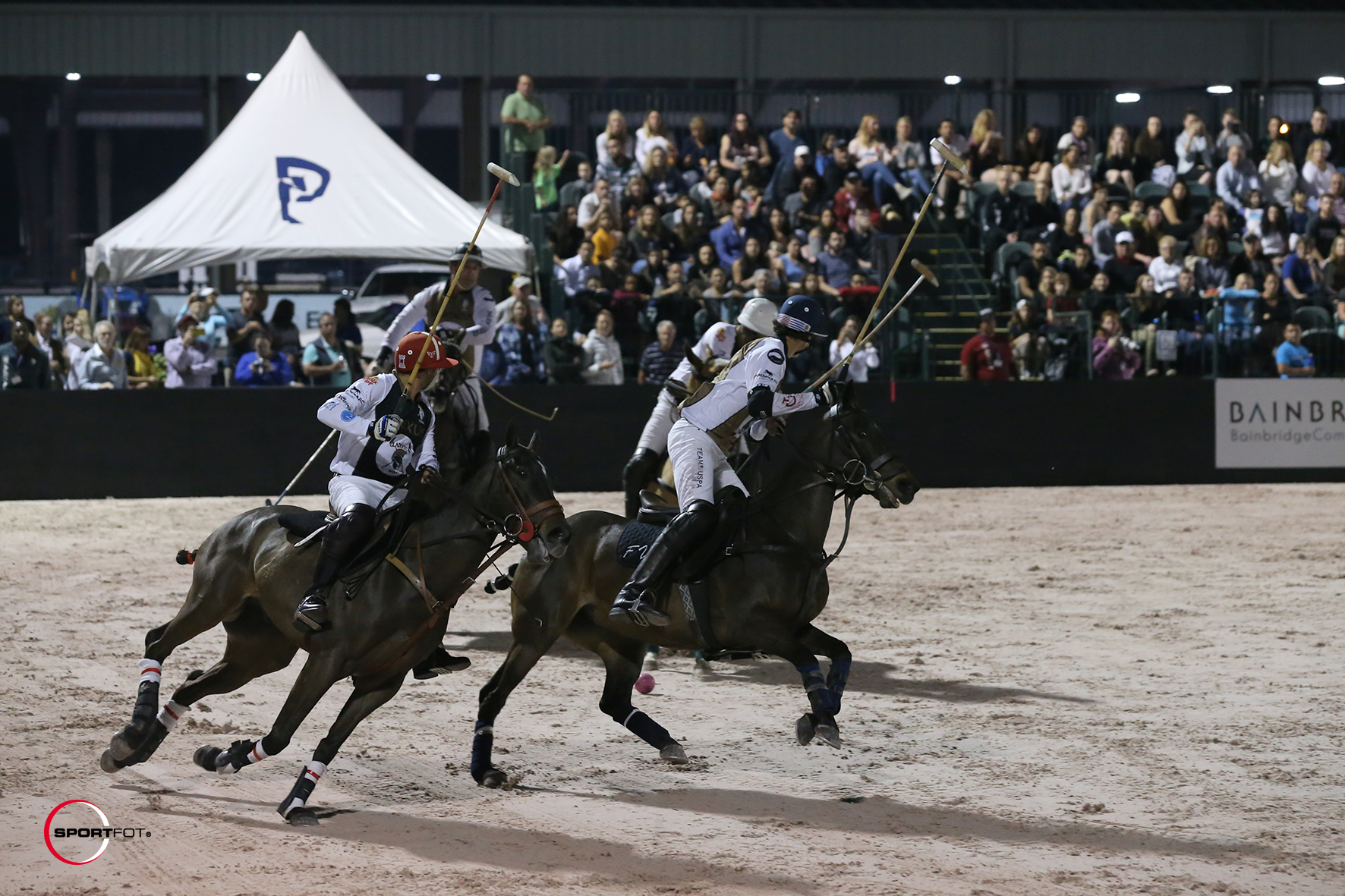 Santi Torres and Felipe Viana
The third chukker pace continued into second half play. Penalty 2 conversions from both teams early in the chukker retained the gap. A great team play from Crixus, initiated by a pass from Azzaro down the boards to Torres waiting in front of goal widened the lead 5-3. Then Spartacus' Crowder scored the first two-pointer of the match to tie the score 5-all. Spartacus hot off their first two-pointer dominated in the fifth. Biddle, riding his gelding Black Jack, scored five unanswered goals including two two-pointers along with a goal from Viana to propel Spartacus into a comfortable six-goal lead moving into the final chukker. "I bought Black Jack from Kris Kampsen about four years ago and he's been amazing, especially in the arena. I've never had a horse that turned to the right so fast," said Biddle about his fifth chukker polo pony phenom.
With thousands of dollars in prize money on the line, Crixus fought back in the sixth. Each player contributed to the scoreboard including an outstanding two-pointer from Torres to close the gap 11-9. With a little over a minute left in regulation time, Crixus was awarded a center field penalty hit worth two points, but was unable to convert. Biddle followed shortly after with a penalty 2 conversion, his third of the match, to widen Spartacus' lead to three. In the final moments, Azzaro scored another goal for Crixus, but it was not enough and Spartacus seized the win and the $24,000 purse with a final score 12-10.
Hot off his John R. Townsend International Challenge Cup arena win against England less than two weeks ago, Biddle beamed in regards to his Gladiator Polo victory. "It's fantastic, I'm really happy to have my own horses today. It's awesome to play this level of polo with all these great players. The venue was great and I thank the people who sponsored the teams and especially Mark Bellissimo. I hope this can be an ongoing event."
The USPA Polo Network will livestream all the Gladiator Polo games. Live coverage of the Ylvisaker Cup begins Friday, January 27, with three games.   Please visit gladiatorpolo.com for game times, rosters and more tournament information. U.S. Polo Assn. is the presenting sponsor for the inaugural Gladiator Polo tm league.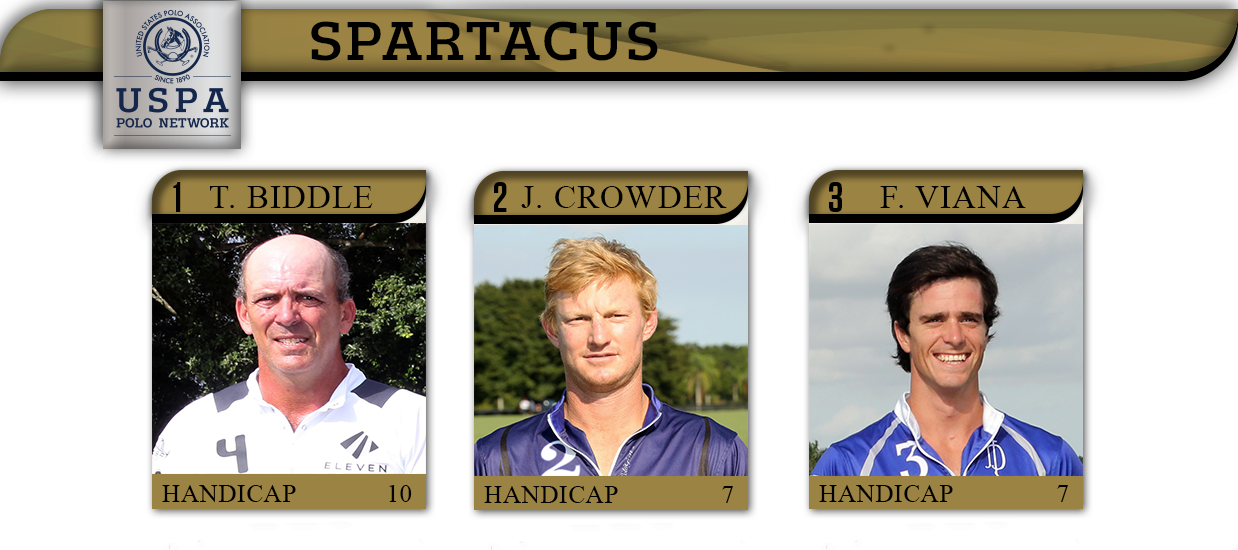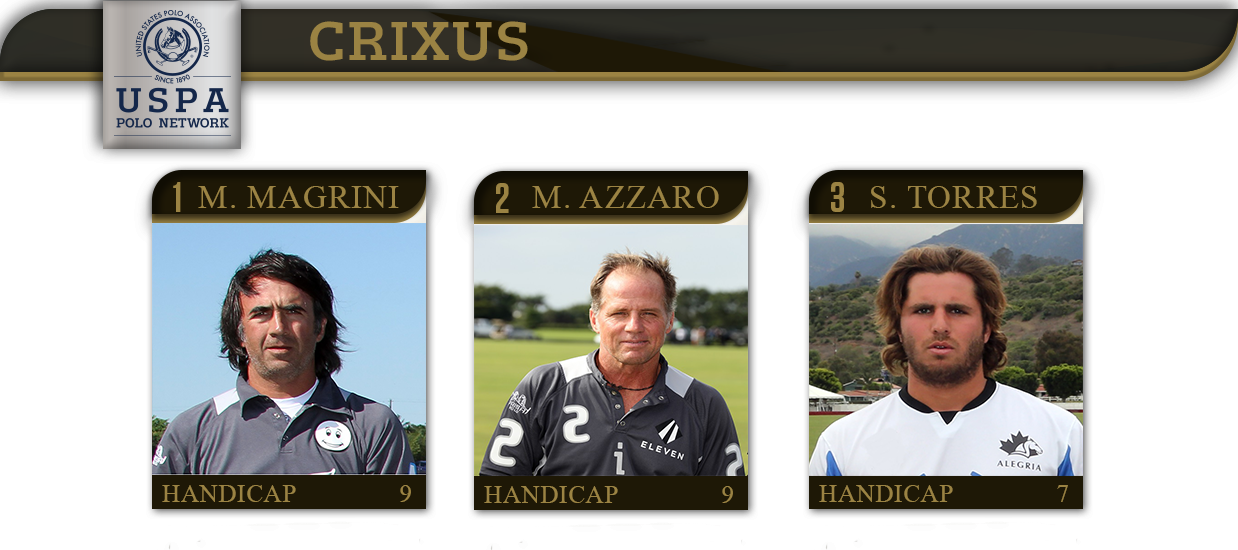 About the United States Polo Association®  
The U.S. Polo Association was organized and exists for the purposes of promoting the game of polo, coordinating the activities of its Member Clubs and Registered Players, arranging and supervising polo tournaments, competitions, and games, and providing rules, handicaps, and conditions for those tournaments, competitions, and games including the safety and welfare of participants and mounts. For more information, please visit uspolo.org
Founded in 1890, the United States Polo Association (USPA) is the national governing body for the sport of polo in North America. Proudly celebrating 125 years at this stature, the USPA is currently comprised of almost 300 member clubs, thousands of individual members, and oversees 40 national tournaments.